Time Management Tips Quick Reference Cards

Time Management Tips Quick Reference Cards are decks of 27 time management tips on flash cards
Quick Reference Cards are an exciting, learning tool to help you build you or your team's time management skills. The cards summarize 27 of Peter "the Time Man" Turla's high leverage time management strategies. Use a different card every day and learn how to get more done and have more free time.
Each of the 27 cards in the Quick Reference Cards deck focuses on one key goal (a mini-time-management lesson) and provides specific action steps to achieve it.
Here's a suggested use for your team: Deal 3 or 4 cards to each team member. Each member then reviews his or her cards and selects one principle to share with the rest of the team. Members then describe how they relate to the ideas presented and how they'll put them into practice.
The cards make self-improvement easy. They are a fun, easy way to stay motivated and inspired to practice powerful time management strategies. Simply place the whole deck into the convenient plastic case included with the deck, change the face card each day, and follow the lessons presented on the card.
There are 27 different cards in the deck.
Sample Quick Reference Card front side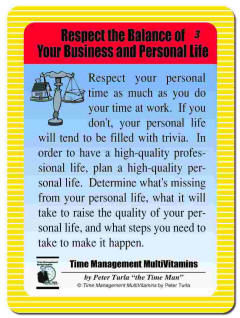 Sample Quick Reference Card reverse side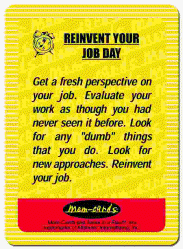 Contents of Time Management Tips Quick Reference Cards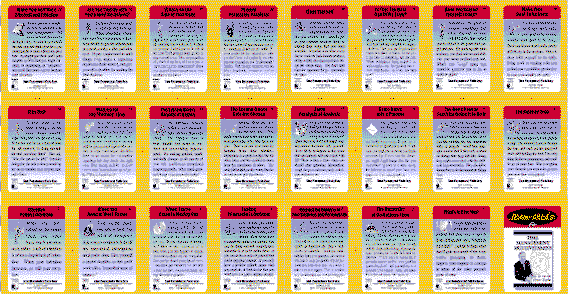 CARD 1 (Front): Ask, "What's in it for Them?"
(Back): REINVENT YOUR JOB DAY
CARD 2 (Front): Get Do Nothing Time For Yourself
(Back): STRETCH YOUR THINKING TO BE MORE EFFECTIVE DAY
CARD 3 (Front): Respect the Balance of Your Business and Personal Life
(Back): NEW WAY TO CONTRIBUTE TO OTHERS DAY
CARD 4 (Front): Develop a Positive Mental Attitude
(Back): SEE TO-DO ITEMS AS OPPORTUNITIES DAY
CARD 5 (Front): Prevent "Maxing Out"
(Back): WORK ON YOUR NEGLECTED PRIORITY DAY
CARD 6 (Front): Focus on the Important Tasks
(Back): ORGANIZE YOUR DESK
CARD 7 (Front): Pay Attention to Your Intention
(Back): OVERCOME PROCRASTINATION DAY
CARD 8 (Front): Avoid the Monkey Trap
(Back): WHAT ACTIONS ARE MISSING? DAY
CARD 9 (Front): Motivate Yourself to Do it Anyway
(Back): SOLVE SMALL PROBLEMS BEFORE THEY'RE BIG ONES
CARD 10 (Front): Do a Brain Dump into a Planner
(Back): EMPTY YOUR BRAIN DAY
CARD 11 (Front): Avoid Paralysis of Analysis
(Back): MINIMIZE UNFINISHED BUSINESS DAY
CARD 12 (Front): The Second Mouse Gets the Cheese
(Back): REVIEW AND UPDATE YOUR GOALS DAY
CARD 13 (Front): Get Extraordinary Results using Kaizen
(Back): FEED YOUR ELEPHANTS DAY
CARD 14 (Front): Stop Waiting for the "Perfect" Time
(Back): DETERMINE YOUR KEY RESULT AREAS DAY
CARD 15 (Front): Ask, "Why Me?"
(Back): LEARN TO DELEGATE DAY
CARD 16 (Front): Make Your Goal To Be Early
(Back): IMPROVE YOUR TIME ESTIMATING SKILLS DAY
CARD 17 (Front): Stretch Your Comfort Zone
(Back): LIVE WITH NO REGRETS DAY
CARD 18 (Front): Ask, "Is This The Best Use Of My Time?"
(Back): LOOK BACK FROM YOUR FUTURE DAY
CARD 19 (Front): Schedule Meetings with Yourself
(Back): EAT AN ELEPHANT A BITE AT A TIME DAY
CARD 20 (Front): Prevent Perfection Paralysis
(Back): LEVERAGE YOUR TIME DAY
CARD 21 (Front): Whack the Side of Your Head
(Back): STAY FOCUSED DAY
CARD 22 (Front): Handle Postponed Decisions
(Back): IDENTIFY YOUR HIGH IMPACT PRIORITIES DAY
CARD 23 (Front): Make Yourself More Efficient and Effective
(Back): MAKE A TIME LOG DAY
CARD 24 (Front): Work Fewer Hours
(Back): USE INITIATIVE AND TAKE QUICK ACTION DAY
CARD 25 (Front): Determine the Minimum Effective Response
(Back): EXPRESS APPRECIATION TO OTHERS DAY
CARD 26 (Front): Take the First Small Step
(Back): DO CONTINGENCY PLANNING DAY
CARD 27 (Front): Determine What Fills Your Tank
(Back): GET OTHERS TO MEET YOUR DEADLINES DAY
ORDER YOUR TIME MANAGEMENT TIPS Quick Reference Cards TODAY!
Order now and we'll rush your Quick Reference Cards to you so that you can start using them to teach yourself or others how to get more done in less time and gain more free time.
Each deck is $19.95 plus $1.88 shipping. Free shipping plus 10% discount on orders of 12 or more.
For more details, call the National Management Institute on 1(817) 491-9681