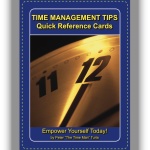 Time Management Tips Quick Reference Cards is a deck of 25 time management tips on flash cards
Quick Reference Cards are an easy-to-use learning tool to help you build you or your team's time management skills. The cards summarize 25 of Peter "the Time Man" Turla's best high-leverage time management strategies. Use a different card every day and practice the time management strategy for that day. By using one card a day, you're not overwhelmed and it's easy to focus.
Each of the 25 cards in the Quick Reference Cards deck has a brief time-management lesson and provides specific action steps to improve your time management.
If you work with others and you'd like them to improve their time management, here's a suggestion on how to go about it. Deal 3 or 4 cards to each team member and let each person review his or her cards and select one idea from the card that they like the best. Each person takes a turn in sharing the idea and what they like about it. They then commit to practicing that idea until the next team meeting and giving a brief report on how well it worked for them.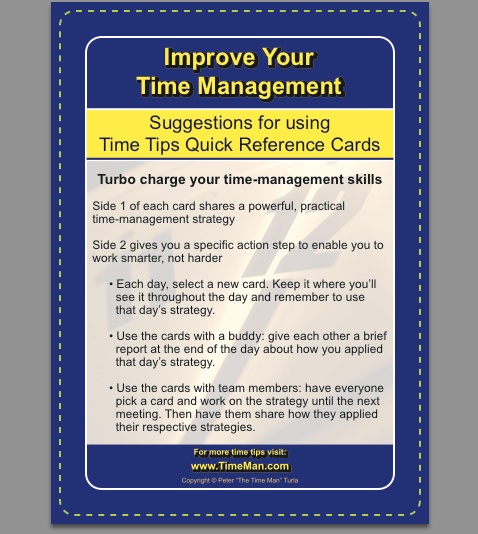 The cards make self-improvement easy. They are a fun, easy way to stay motivated and inspired to practice powerful time management strategies. Simply place the whole deck into the convenient plastic case included with the deck, change the face card each day, and follow the lessons presented on the card.
Sample Quick Reference Cards, Side 1
Sample Cards – Side 2
 Subjects covered on Time Management Tips Quick Reference Cards

Time Management Quick Reference Cards Table of Contents
Card 1: You Don't Have to Feel Like Doing It to Do It
Back:     Prevent Problems Day
Card 2: When is Good Enough, Good Enough?
Back:     Avoid Unjustified Perfectionism Day
Card 3: Make A "Not Going To Do It" List
Back:   Overcome Overcommitment Day
Card 4: Beware of "Gotta Minute?"
Back:   Interruptions Diet Day
Card 5: The Monkey Trap
Back:   Simplify Your Life Day
Card 6: What Will Your Next Beginning Be?
Back:   Set SMART Goals Day
Card 7: Meet Your Tight Deadline
Back:   Organize for Fast Working Day
Card 8: Waiting for the "Perfect" Time
Back:   Assign Due Dates Day
Card 9: Proper Planning Provides Peak Performance
Back:   Accomplish Your Key Result Area Day
Card 10: Avoid Paralysis of Analysis
Back:     Be a Completionist Day
Card 11: Whack on the Side of Your Head
Back:     Kiss the Frog Day
Card 12: Ask "Why Me?"
Back:     Delegation Day
Card 13: Practice Kaizen and Get Extraordinary Results
Back:     Improve Your Work Style Day
Card 14: Have You Scared Yourself Today?
Back:     Time Travel Day
Card 15: What Are You Neglecting?
Back:     Use Your Time Wisely Day
Card 16: Make Appointments with Yourself
Back:       Stay Focused Day
Card 17: "Brain Dump" into Your Planning System
Back:       Use Your "Second Brain" Day
Card 18: Have a Good Attitude About What You're Doing
Back:     Have an Attitude of Gratitude Day
Card 19: Get Off Auto-Pilot
Back:     Analyze How to Improve Day
Card 20: Avoid Burnout
Back:     By the Inch it's a Cinch Day
Card 21: Determine the Minimum Effective Response
Back:     How Much Time Does it Deserve Day
Card 22: Balance Your Business and Personal Life
Back:     Appreciate Others Day
Card 23: Is Your Tank Getting Filled or Emptied?
Back:     Apply the 80/20 Rule Day
Card 24: Feeling Miserable is Optional
Back:     Keep a Positive Attitude Day
Card 25: The Necessity of Do-Nothing Time
Back:     Finish Your To-do List Day
ORDER YOUR TIME MANAGEMENT TIPS Quick Reference Cards TODAY!
Order now and we'll rush your Quick Reference Cards to you so that you can start using them to teach yourself or others how to get more done in less time and gain more free time.
Each deck is $19.95, Minimum order is 12 decks. 10% discount on orders of 12 or more.
For more details, call the National Management Institute (817) 768-8332